Mentoring for the Current Homeschool Mama is OPEN!
For the mama and teacher determined to joyfully leave the space for learning, exploration, discipleship, and love this year.
Let 2023 be the year we cherish childhood, teach with confidence and intention, and thrive in motherhood and education.
Reflect on your current homeschool space, set exciting intentions for the year with your kiddos, and proactively prepare for a year of success.
We'll focus on creating/reviewing your mission + vision, discuss the best curriculums for your family, tweak your routines and schedules, look at effective ways to teach multiple ages, and tackle any other challenges you might be facing together!
We'll also focus on YOU and how to align your life so that you can joyfully pour into the ones you love most. It's a great way to start this year together as we rise each and every day for our children.
Comment below with "let's go" in the comments, and I will message you with more info and the link to sign up!
Let's go, Mama!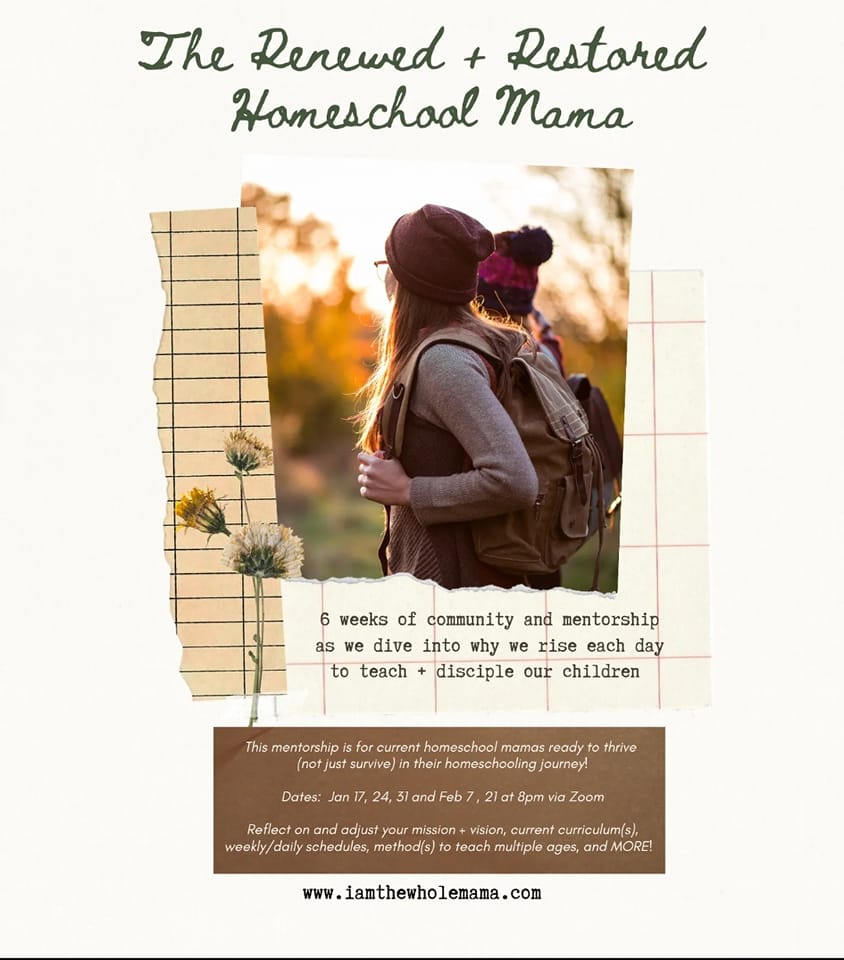 DETAILS:
-6 weeks (1/17, 1/24, 1/31, 2/7, 2/21, 2/28)
-Sessions will be at 8pm (Central) via Zoom
-3 group coaching calls/month
-one 1:1 call with me
-drive folder with printables, planning calendar, planning tools, etc
-price created with your budget in mind
$99/month (total of $198 for the two months) or one full payment of $150 for the two months via Venmo.
I would be honored to work with you in our little group! Please see my Venmo handle below: Once you place your payment, I will send you a survey to complete and more information!
@thewholemama
Mentoring for the New Homeschool Mama – CLOSED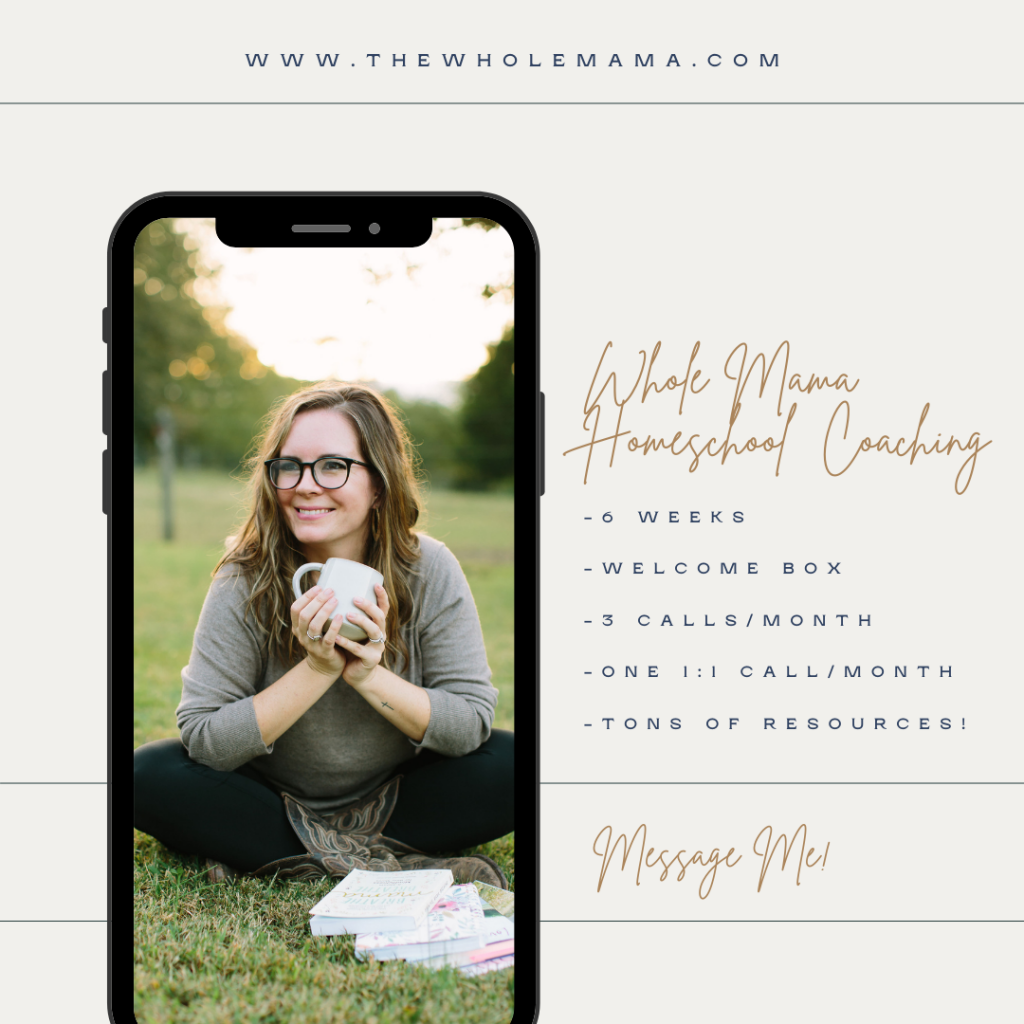 THIS GROUP IS CLOSED AT THIS TIME. A NEW SESSION WILL BEGIN I 2023!
It's true…5 million…5 MILLION families are homeschooling in the United States today with more starting each and every day.
It's a little overwhelming to start…I know! If you are planning to start this fall, but you have no idea of where to begin…
I've created a 6-week small group that will get you ready, centered, and excited to start homeschooling. In those six weeks together (May and June) we will cover these pillars to set a solid and centered foundation for you and your homeschooling journey:
knowing the homeschool laws and requirements in your area
making sure you have non-negotiable time planned for YOU during the week to fill your cup so you may fully pour into your family and prevent burnout
crafting our mission (why we homeschool) + vision (how) throughout the year
finding your perfect teaching style + curriculum according to your values + family culture
scheduling your homeschooling days throughout the year + when you will teach your subjects throughout the week
creating a beautiful atmosphere of home education
answering ANY of your questions
AND MORE!
Starting to look at homeschooling can be a very overwhelming process, and I want to make sure you feel confident, prepared, and excited to start teaching your children!
DETAILS:
-We start the week of May 8th!
-just two months
-little welcome box
-3 group coaching calls each month
-one 1:1 call each month
-drive folder with printables, planning calendar, planning tools, etc-price created with your budget in mind!
Price: $99/month (total of $198 for the two months) or one full-time payment of $175 for the two months